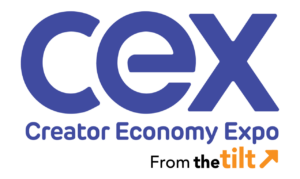 Thank you for your interest in joining the Creator Economy Expo Affiliate Program!  We really appreciate your support and spreading the word about CEX for 2023.   See below for all the details. 
Already an affiliate and looking for the Affiliate Hub? Click here.
When you are ready, just click the "Register now to be a CEX affiliate" button to register in our Affiliate Hub.
Any questions? Please email Marc Maxhimer, our Director of Growth and Partnerships: [email protected].
CREATOR ECONOMY EXPO AFFILIATE PROGRAM DETAILS:
You get a $100 coupon code for your audience. This works on the All-Access passes, Conference only passes, and On-Demand video pass. The On-Demand is great for anyone who can't make it, but wants to benefit from the great sessions.
The coupon code will be embedded in your affiliate link to make it super easy for your audience members to save.
You get a $100 payment (paid monthly) for each confirmed registration from your sign-up through the event.
We ask that you promote the event in your newsletter, podcast, and on social media, early and often using your referral link.
Self-referrals are not allowed (i.e. registering for CEX through your own affiliate link).
REGISTRATION INSTRUCTIONS:
Input your contact information, including your bank account information, for payment. Payment will be each month.
Choose your username — PLEASE NOTE: Your username becomes your coupon code. It will also be part of your unique URL affiliate link.
The affiliate hub is where you will come to track referrals and payments from now through May.
If someone uses your coupon code – you WILL receive credit for the registration as an affiliate. Both your unique referral link and the coupon code both work for your affiliate registrations.
Please use the referral link when possible for tracking purposes. The coupon code works best for audio purposes.